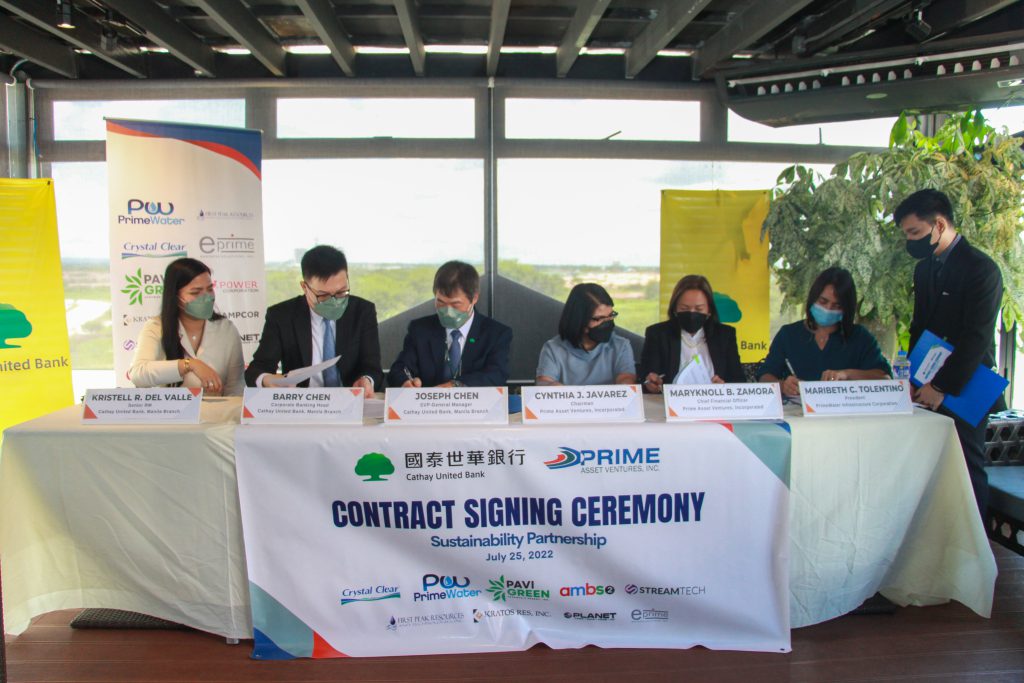 PrimeWater Infrastructure Corp. and Cathay United Bank pursue partnership on environmentally and socially sustainable initiatives after signing a sustainability-linked loan agreement on August 10.
"PrimeWater understands that commitment to sustainability is the future. This partnership reinforces this commitment as it will strengthen our company's projects and initiatives," said Cynthia Javarez, chairperson of Prime Asset Ventures, Inc (PAVI).
The partnership is seen to benefit the various sustainability-linked projects of PrimeWater as it adheres to the global call to action enshrined in the United Nation's 17 Sustainable Development Goals (SDGs) that aims to protect the planet, end poverty, and ensure that all people enjoy peace and prosperity. The company is set to develop its roadmap to sustainability within the year.
PrimeWater also continuously implements its corporate social responsibility (CSR) programs focused on protecting the environment such as watershed protection and adoption which they recently signed with the Department of Environment and Natural Resources (DENR), cleanup drive and mangrove-tree planting.
In June of this year, they conducted a tree-planting activity of almost 7,500 of different tree species across the country.
Meanwhile, the company also supports their communities through other forms of CSR programs such as handwashing hygiene and sanitation stations and livelihood program for micro-entrepreneurs.
"Cathay United Bank is optimistic that we are part of these initiatives. We are even more driven to strengthen our sustainable financing with PrimeWater as we recognize our common goals and mission; we look forward to prospering in this endeavor together," said Joseph Chen, senior vice president – general manager for Manila of Cathay United Bank.
Cathay United Bank is a major subsidiary of Cathay Financial Holdings Company (Cathay FHC) which is the largest financial holdings by asset in Taiwan. Cathay FHC has been encouraging climate change awareness throughout its entire operations and by joining various organizations that promotes ESG (Equator Principles, Science Based Targets, RE100 and among others).
To be aligned with Cathay FHC 2050 net-zero carbon emission target, the group implements carbon reduction targets in financial assets, establishes green deposits, promotes sustainable finance, and supports renewable energy financing. In addition, Cathay FHC aims to achieve 100 percent use of renewable energy across all its group operations.
The event was also attended by PAVI Chairman Cynthia Javarez, PAVI Chief Financial Officer Maryknoll Zamora, PrimeWater Infrastructure Corp. President Maribeth Tolentino together with Cathay United Bank's Senior Vice President – General Manager for Manila Branch Joseph Chen and Corporate Banking Head for Manila Branch Barry Chen.
Source: Philippine News Agency | PrimeWater adheres to global call to protect planet