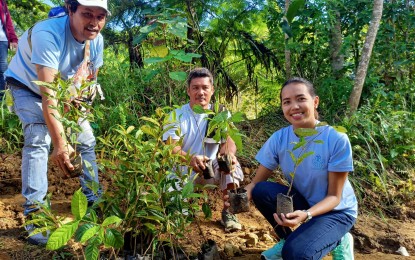 PrimeWater Infrastructure Corp. through their corporate social responsibility (CSR) program, "Daloy ng Paglingap", has launched a nationwide simultaneous tree-planting activity to celebrate the World Environment Day with the theme #OnlyOneEarth.
PrimeWater branches from across Luzon, Visayas, and Mindanao have participated in the recent activity through localized planting of seedlings and saplings in various areas within their service coverage.
"As the song goes, 'ang lahat ng bagay ay magkaugnay (everything is connected)'. If we do not act in preserving our environment, we will have no choice but to face serious consequences that may affect water supply, increase greenhouse gas emissions, and result in frequent landslides in the future," said Romeo Sabater, PrimeWater's Vice President on the activity's objective.
Based on a study by Global Forest Watch, an online platform that provides data and tools for monitoring forests, Philippines' loss in tree cover reached 7.2 percent from 2001 to 2021. Tree cover loss is defined as the change in both natural and planted forest, which may or may not be caused by humans.
PrimeWater's branches nationwide have planted almost 7,500 trees and seeds with different saplings from Narra, Acacia, Molave, Mahogany, Pine Tree, Talisay, Banaba to Calamansi, Jackfruit, Duhat, Calamansi, Atis, Tsiko, Suha, Mango, Liputi, Rambutan, and Cacao.
In Bicol, PrimeWater Camarines Norte has planted more than 2,000 Bakauan Bato Propagules, a Mangrove species, in Barangay Manguisoc which was an adopted area of Camarines Norte Water District and PrimeWater.
"The area is prone to tidal intrusion, that's why we planted as many Mangrove saplings as necessary," Mark Muroda II said, PrimeWater Camarines Norte's branch head. "Water is our responsibility. There will be no clean water to be produced when our environment is damaged," Sabater added.
The nationwide tree planting activity coincided with Proclamation No. 237 declaring the month of June as Philippine Environment Month aimed at instilling environmental awareness and concern among the country's various sectors.
Sabater justified the importance of Corporate Social Responsibility Programs.
"PrimeWater considers it a tremendous privilege to give back to the community and the environment through our CSR Program, 'Daloy ng Paglingap'. We are committed to provide not only the best water and wastewater services, but also socio-environmental support for our stakeholders through our Lingap efforts," Sabater said.
The nationwide tree-planting activity is part of Lingap Kalikasan, PrimeWater's environmental arm under Daloy ng Paglingap which aims to protect and care for mother nature. Other Lingap facets are Lingap Bukas-Palad for outreach and donation drives, Lingap Karunungan for Information, Education and Communication campaign, and Lingap Kabuhayan covering livelihood support for the community.
Source: Philippine News Agency | Primewater marks World Environment Day with tree planting